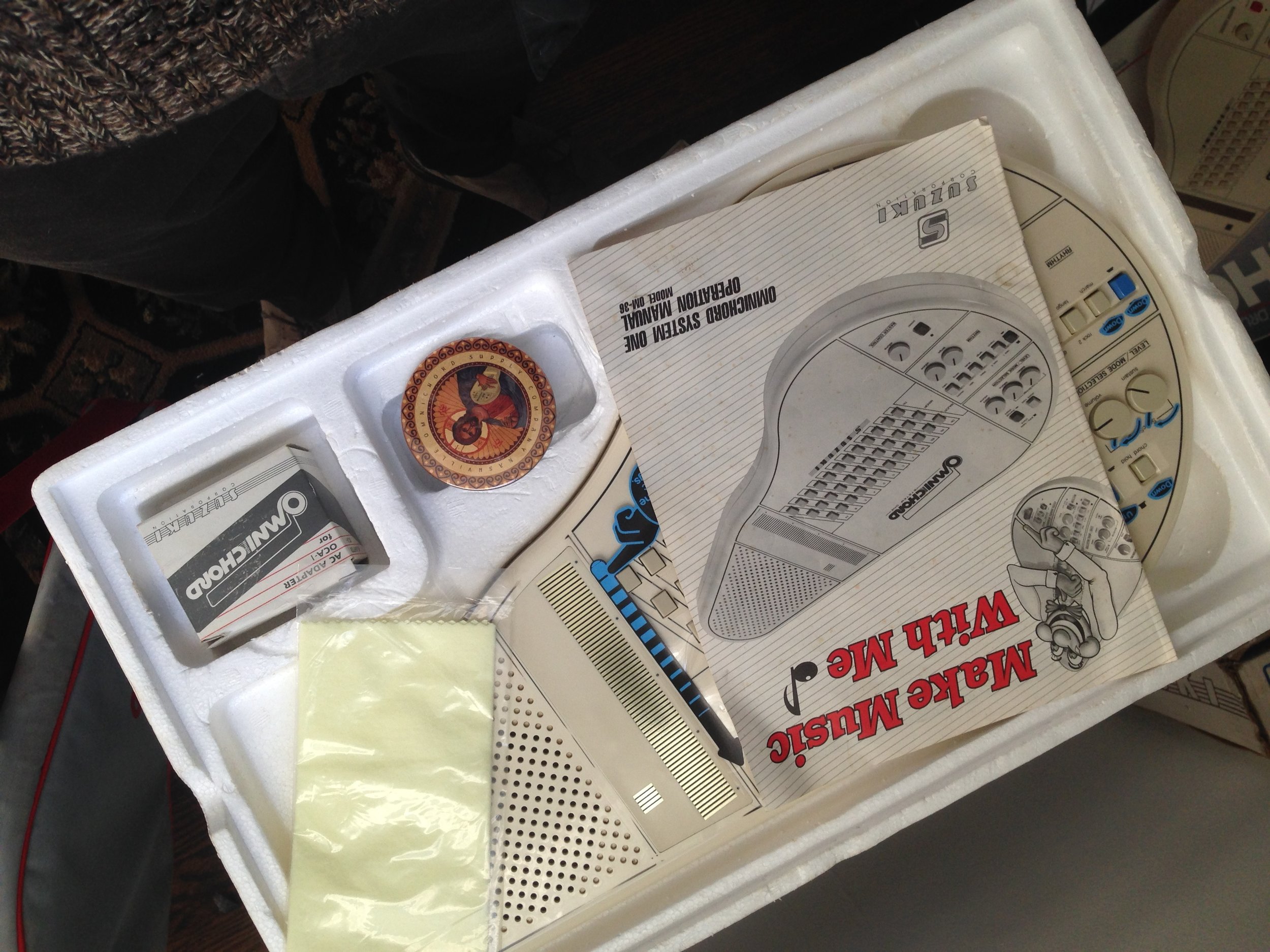 Suzuki Omnichord OM-36
***
In the dark of the night, I heard the soft turning of the bedroom door handle. The luminous pattering of the OM-36 coming closer, closer, until I felt its soft rustling into the bedsheets beside me.

"Don't," My fingers clutching at it's power button. "you know what they'll do if they find you here."

It placed its finger on my lips, and in that sweet twilight it strummed a sonic song for me that crawled in and around my ears, smooth and soft like the cheeses I spent my waking days crafting in the halls of the monastery's farmhouse.

In my weak & wallowing lack of self-restraint I inched ever-nearer to it's strumplate. I knew it would be something I had never ever felt before. But suddenly, the clangorous soaring tones of the monastery bells signaled the hour of Lauds and I heard the waking pittering of the hairy brethren monks begin to scuffle towards the sanctuary.

"Go! Quickly!" I gasped under the soft satin sheets.

"I'll find you in the morning. Before I go." It whispered back to me between flawlessly executed auto-bass sequences mirroring a Latin rhythm. "I promise."

***

Nevermore did we play this Omnichord again, but I'll be damned if this beautiful OM-36 didn't tempt us to break our vows of chastity. With impeccably responsive chord buttons, an u n b e l i e v a b l y pleasant-to-play strumplate, and fresh battery springs, I'd put my money on this being one of the best Omnichords that has ever been through my doors. Maybe you will put your money on it too.

Comes in an original Suzuki Omnichord OM-36 box, with original strumplate overlay, OM-36 booklet and manual, cleaning cloth, and original Suzuki power supply in box.
sold out
Suzuki released System I and System II (The OM-36 and OM-84 respectively) as the second generation of Omnichords. The OM-36 is, we like to think, the unappreciated younger stepchild.
The OM-36, like the OM-84, is equipped with every note you could want, and can run the gambit with combined chords - by mastering the multi-touch chord technique, you can now create all sorts of sadboy chord structures like an F Major 7th, or a D Minor 7th! The OM-36 retains the simplicity of the original form with a simple, single knob for the strumplate sustain. The rhythm section boasts 10 total drum patterns, all of which are variable in tempo.
The OM-36 has a longer, more tasteful & graceful tail when you tickle it's strumplate with the sustain fully engaged. Between the slightly more magical sustain & the slight tonal difference (marginally more rounded & less pingy) this is one of our favorite models for swooning your slightly depressed boyfriend who goes pouting about his hopeless love poems.